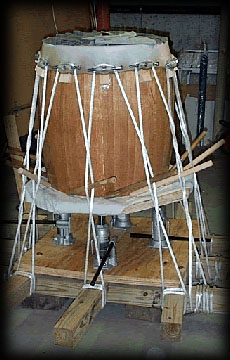 It's not news that providing excellence in performing arts and arts education costs money. Support from our donors gives ONE the resources we need to keep sharing our love of taiko with you and the rest of New England. We hope you will consider making a gift during this exciting time of change and growth.
ONE has expenses for everything from costumes to travel to equipment maintenance to running the Dojo, not to mention personnel costs for teaching, performances, and administration.
$50 will cover the cost of one happi costume or printer toner for 6 months;
$60 will buy a pair of good Odaiko bachi;
$100 will pay for one pair of chappa hand cymbals or one month of phone and Internet for our office;
$200 will buy one box of taiko tacks;
$5,000 will enable ONE to buy our own Odaiko!
Your tax-deductible donation will make a difference! Please make your gift today. Your contribution will go a long way to keep Odaiko New England drumming! Also please look at our merchandise, another way to support us.
Donations though Paypal
Odaiko New England is a 501(3)c non-profit organization.
---
Do you shop at amazon.com?
Did you know you could support Odaiko New England with every purchase you make?  Sign up to support us through amazon smile and a fraction of every purchase you make through smile.amazon.com will be donated to Odaiko New England.