Please check our calendar for a full schedule.
The joy of sharing and connecting with others is at the core of kumi-daiko (ensemble drumming). Through the rousing voice of the taiko drum, we have shared our energy, spirit, and heart with thousands of people throughout the Northeast. From the gymnasiums of local elementary schools to the banks of the Charles River, we have also developed an impressive array of experience adapting performances to different audiences, venues, and occasions.
If you are looking for a unique way to engage your audience, please consider Odaiko New England. We would love to help you share the spirit of taiko drumming with your students, colleagues, guests, and community members. In addition to offering the types of performances listed below, we are happy to tailor an event to your specific needs. Please contact us at info@onetaiko.org for a price estimate or check here for more information on how to book us.
---
Festival Sets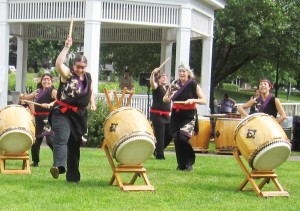 ONE has been featured at several local festivals and community events, including the Boston Dragon Boat Festival, the Cambridge River Festival, First Night in Providence, RI, the Boston Chinatown Festival, the National Cherry Blossom festival in Washington, DC, and the John Manjiro festival in New Bedford, MA. Festival sets are typically 20-30 minutes long, but can be adjusted to suit your program and needs. Festival sets are also suitable for private functions and corporate events.
---
Concerts
The sound of a single odaiko is riveting on its own, but the sound of Odaiko New England on stage in full concert is breathtaking. ONE has performed complete 60-90 minute sets at universities such as Bridgewater State College and the University of Rhode Island. We promise a memorable evening of entertainment that will inspire and uplift.
---
Workshops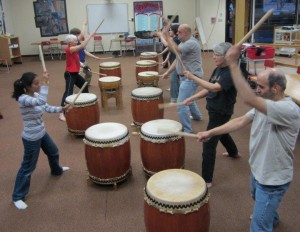 There is no better way to share the joy of taiko than to teach it to others! Odaiko New England teaches introductory level workshops for all ages throughout the New England area. Past workshops have included everything from 30-minute sessions for children at the Peabody-Essex Museum, to 3-hour intensive introductory workshops for adults, to 8-week residencies at local schools and community centers. ONE provides enthusiastic instructors and all necessary drums and equipment. ONE has also developed successful and engaging taiko workshops for corporations seeking creative and innovative ways to build employee teamwork.
---
Lectures/Demonstrations
Lectures/demonstrations are a perfect combination of entertainment and education. ONE has presented hour-long lec/dem programs to schools throughout Massachusetts as part of Young Audiences of Massachusetts. In addition, ONE has participated in several corporate events as part of holiday celebrations and cultural/diversity education events. Lecture/demonstrations typically include:
---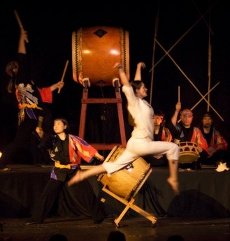 Collaborations and Special Projects
Odaiko New England also seeks opportunities to push the boundaries of traditional taiko performance. ONE members have composed music for plays, performed at the opening of a night club, and participated in various collaborations and fusion pieces. We would love to work with you to create new and unique avenues of expression for the taiko drum.