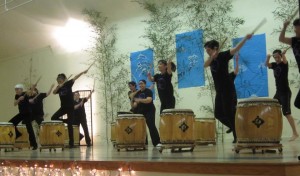 Upcoming Workshops
A taiko workshop is a great way to get a taste of taiko, learn some of the basics, make some noise and have a lot of fun.
There are no upcoming events to display at this time.
For more information, please email class@onetaiko.org
---
Space is limited in all workshops and will be afforded on a first-come, first-served basis. Workshops are subject to cancellation due to under-enrollment (at which time, registration fees will be refunded). No refunds for No-Shows.
Check back for more information on future workshops or try our regular taiko classes. You can also bring Odaiko New England to you! Odaiko New England teaches introductory level workshops for all ages throughout the New England area. ONE provides enthusiastic instructors and all necessary drums and equipment. ONE has also developed successful and engaging taiko workshops for corporations seeking creative and innovative ways to motivate their employees.