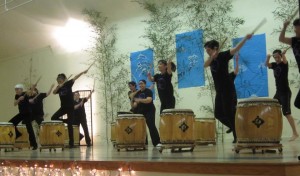 In our Taiko Fundamentals class, new drummers learn essential taiko skills such as kata (form), kiai (vocalization) and kumi-daiko (ensemble drumming). Using our entire bodies to learn and play a song, we explore first-hand the power of taiko while exploring its rich traditions and history. Taiko Fundamentals is an invigorating experience for body, mind and spirit!
What you'll learn
Each class begins with a series of warm-up exercises followed by oroshi–drumming drills which encourage good posture, form and speed. We learn and play taiko songs using kuchi showa, an ancient oral tradition of passing down taiko rhythms.
Throughout the course we introduce traditional behaviors and greetings associated with taiko, as well as the Japanese words and phrases used in taiko instruction. While engaging in fun musical games that incorporate movement and vocalization, we'll build coordination and stamina.
You'll come away stronger, and with a deeper understanding of taiko history and its modern-day resurgence.
What to bring
This commanding art form engages the entire body. Wear comfortable clothes to class. Bring plenty of spirit, energy and water! Hearing protection is also recommended.
Details
Date: Tuesday evenings
Time: 6:45pm – 8:30pm
Location: ACAS Center, 29 Montvale Ave., Woburn, MA (directions)
Cost: $200 for a 10 class session or a drop in rate of $25 per class.
Prerequisite: Taiko Fundamentals is open to everyone–no previous drumming or musical experience is necessary.
Registration: Complete the pre-registration form.
Winter Session
January 16th – March 27th, Tues. 6:45 (setup) 7:00 – 8:30 PM
10 Classes, Cost $200
Please check class calendar for dates and location, or contact us directly class@onetaiko.org.