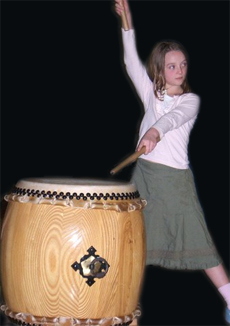 Can't make it to one of our workshops or classes? Want to bring a powerful, extraordinary activity to your event or school? Want to build teamwork and group cohesiveness? Odaiko New England can provide private taiko workshops for you and your group, event, or school.
All you need to do is provide the people and a space where we can make a bit of noise and we'll bring the drums, the sticks, the instructions, and the energy and fun. We require young children to be tall enough to play the drum comfortably, but other than that we encourage young or old to try taiko. Don't have a musical background? Don't worry! We'll start at the basics. Taiko is a fun, stress relieving, empowering group activity.
In a typical workshop, we'll do a brief set of warm up exercises and teach some of the history of taiko in Japan and North America. We will then learn the form (kata) of hitting the drum, learn how songs are taught through kuchishoga, and then learn a simple song. Workshops can be tailored for your group.
For more information or to request a quote, please email class@onetaiko.org or phone 781-938-DRUM (3786).