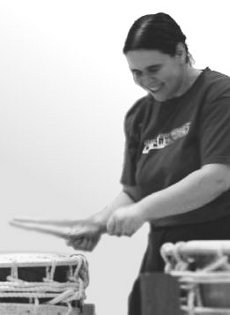 Calista "Cat" Tait started taking taiko classes with ONE in June 2004 and became a member in 2008. She began teaching taiko in 2011 and was a Program Director from 2013 to 2014. She is currently on leave from Odaiko New England, but continues to perform from time to time as a guest artist and teacher.
Calista has always had eclectic tastes in her hobbies and activities. In high school her interests included art, saber fencing, and costuming. Later, while earning a Computer Science degree at MIT, Cat added off set press printing, robot building and creative writing to her repertoire.
Embracing her adaptability, Calista eagerly applies her love for variety to taiko. A talented musician, woodworker and artist, Calista also plays the fue or shinobue (Japanese flute), constructs drum stands and donates art to ONE. She hopes to one day add koto (Japanese harp), composition, and anything else that captures her fancy to her stock of taiko-related skills.
Calista is grateful that she has found taiko. The music, motion, creativity and power of taiko inspire and lift her each time she plays. Sharing it with audiences young and old gives her great joy, and teaching it even more so. She is especially thankful for the amazing people ONE has brought into her life and the friendships taiko has sparked.
Calista currently resides with her husband in North Reading, Massachusetts, where she indulges in video games, tech toys and her numerous musical instruments.