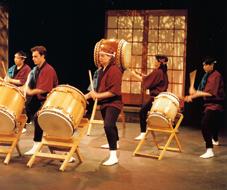 Odaiko New England (ONE) was founded in 1994 by Elaine Fong and a group of individuals with a shared love of taiko. In the early days, the group drummed on old, taped up tires and taiko borrowed from the New York City-based taiko group, Soh Daiko. Its first rehearsal space was in the basement of a church in Brookline. For three years, ONE was a nomadic taiko group, rehearsing in at least seven different locations, finally settling in 1997 in its present space, the ACAS Center in Woburn.
With Japanese taiko drums being prohibitively expensive ($5,000 for a medium-sized taiko), ONE followed in the footsteps of fellow North American taiko groups and made its own taiko from California oak wine barrels. To this day, ONE still makes some of its taiko.
Odaiko New England's very first concert was in 1996 at the Cambridge Multicultural Art Center (CMAC). Since then, ONE has performed throughout the New England area at festivals, universities, corporations, and special events. As a roster artist of Young Audiences of Massachusetts, Odaiko New England presents a dynamic taiko program to K-12 students, reaching over thousands of students each year. The powerful voice of the taiko is a striking example of the use of the arts to inspire, inform, and educate.
In addition to performances, Odaiko New England is dedicated and committed to teaching taiko. It has weekly taiko classes and conducts community and corporate workshops.