Why should I join ONE?
If you love taiko and are eager to perform, ONE may be a good fit for you! In a typical year we do about 35 performances and 25 school shows and workshops across New England. We are a well-established taiko group, and also a non-profit business (501c) with a board of directors. Our status as a non-profit has aided us in pursuing our mission of education and outreach since 1994. At ONE, we work as a team–not just while playing taiko, but also when working on drum construction, costumes, marketing, and other projects that keep the group moving forward.
How can I become a performing member of ONE?
First, come take a class. By joining our classes, you'll get to meet some of our members and learn about our dojo. Every taiko dojo has slightly different kata (form), so even if you are very experienced with taiko,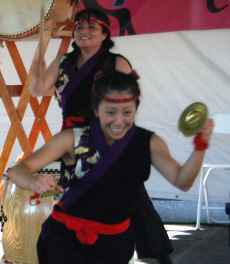 there will likely be some differences between how you play and how we play. ONE also highly values community and a sense of camaraderie within the group. Taking classes will give you a chance to get to know us and allow us to get to know you. It is important to make sure that we are a good fit.
Second, apply to be an apprentice. We welcome applications once a year (though exceptions do sometimes occur). If accepted into the apprentice program, we'll identify what training you might need, including learning our repertoire in order to prepare you to become a performing member. Apprentices join member practices and will start to perform with the group as soon as they are ready. Full membership will be decided based on individual evaluation.
If you have any further questions, we'd love to hear from you. Please email info@onetaiko.org for more information about Odaiko New England and let us know if you are interested in becoming a performing member.